AEDC is a private non-profit corporation (IRS code 501(c)(6)), operating since 1987. It exists to encourage growth and diversity in the Anchorage economy, promote a favorable business climate and improve the standard of living of Anchorage residents. Funding sources for the corporation are private contributions, municipal and state grants and contracts.
Mission Statement:
To grow a prosperous, sustainable and diverse economy.
Vision Statement:
By 2025, Anchorage is the #1 city in America to live, work and play.
Integrity: Being transparent and ethical in all our dealings
Credibility: Demonstrating competency and expertise in everything that we do
Proactive: Creating opportunities through innovative actions
Collaboration: Leveraging our strengths with the strengths of others
February 24 @ 8:00 am
–
11:00 am
February 24 @ 9:00 am
–
10:00 am
May 11 @ 8:00 am
–
11:00 am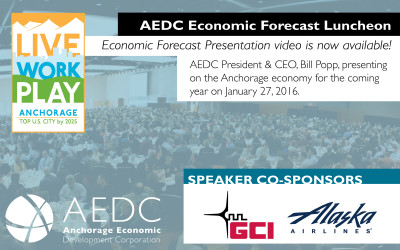 2016 Economic Forecast Presentation Video: The video of our full Economic Forecast presentation is now available of here:   DOWNLOAD REPORTS: You can view the 2016 Economic Forecast Report for Anchorage here, sponsored by BP Exploration! You can view the 2016… read more
Interested in more of the latest from AEDC?
Discover Anchorage and make sound decisions through data.
Get the community data your business needs to see why Anchorage is a great place to do business.
Use our business database to identify industry clusters and locate customers, competitors and suppliers.
Phone: (907) 258-3700
Fax: (907) 258-6646
Office hours:
Monday – Friday, 8 a.m. – 5 p.m.